CloudDial Recorded Sounds
Adding a Recorded Sound to CloudDial
Adding additional IP addresses to the CloudDial firewall is a simple proceess that can be done by an existing administrator account.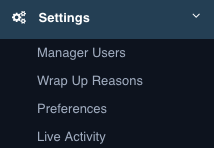 From the 'Settings' menu, select 'Preferences'.

Select the 'Recorded Sounds' tab from along the top of the screen.
Click on 'New'

Enter in a 'Name' and 'Description' so that you remember what is in the recorded sound.
Click 'Select' to open a file browser on your PC and select the file you would like to upload.
NOTE: Supported file types are .wav and .mp3
Finally, click 'Save'